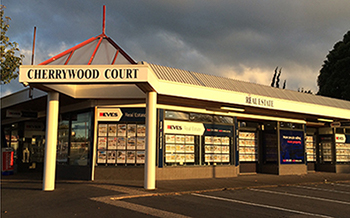 With a population of over 8,000, the Otumoetai peninsula attracts everyone from young families to retirees. Along with its popular harbourside location, there are plenty of parks and recreational spots to enjoy, such as Fergusson park, Kulim park, and the Matua Saltmarshes. There are two popular primary schools; Otumoetai Primary and Pillans Point School, with both college and intermediate nearby in the neighbouring suburb of Bellevue. The area also has some awesome views of the harbour and across to Mount Maunganui.
Our EVES Cherrywood branch opened in 2014 (having previously been located on Willow Street) and has a proud spot in the Cherrywood Court shopping centre, right in the heart of Otumoetai. Surrounded by amenities favoured by the locals, including hair salon, pharmacy, post shop and the popular Neighbourhood Kitchen restaurant, this neck of the woods is family friendly and full of life.
The EVES Cherrywood sales team has about 25 residential salespeople and support staff. These guys pride themselves on their experience, market knowledge and achieving excellent results for vendors and buyers alike. The team are led by branch manager Gordon Stewart, who has been in real estate for over 34 years! Gordon has an absolute passion for the industry that he shares with his team, along with supporting them to provide the highest level of service.
Next time you pop over to Otumoetai to have a coffee at the CherryTree espresso bar, or to take a stroll in Fergusson Park - pop in and see the team at the EVES Cherrywood office. Our friendly admins Helen and Bridie will be on reception to greet you, and any one of our fantastic salespeople will be more than happy to help, whether you are looking to buy or sell, or even just to have a chat about what's happening in the area.