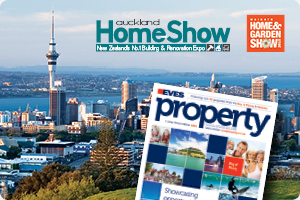 From Wednesday 9th to Sunday 13th September at the Auckland Home Show over 60,000 visitors came through, well up on 40,000 last year.
Nearly 90 pages of local properties marketed by EVES and Bayleys were there in a bumper Home Show publication. Our branch managers and salespeople in the EVES booth at the show spoke to hundreds of Aucklanders genuinely looking to move to our regions.
With more properties now starting to come onto the market and much shorter days on market before a successful sale, there has never been a better time to put property up for sale.
However, in this busy market it is extremely important to engage with a brand, team and individual salesperson who is skilled at finding the best buyer, not necessarily just the first buyer.
Open competition between buyers at our auctions provides confidence to sellers that every opportunity has been explored to find the best buyer for their property.
The sustained success rate in our EVES auction room is proof of how well this approach works for both seller and buyer.
The past month has seen over 100 properties in EVES auction campaigns with an 83% sales success rate that same month.
Talk to EVES, more people selling more property.
Ross Stanway
CEO