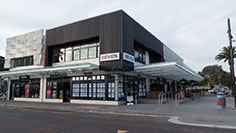 Mount Maunganui is known for its permanent holiday vibe, with a combination of laid back living and boutique chic. Our EVES Mount Maunganui branch resides in pristine and modern office premises (having had a full refit in 2019) at 121 Maunganui Road – right in the central hub of shopping, restaurants and cafes. Maunganui Road is the pathway to all that this cool coastal location has to offer – the golden sands of the Mount Main Beach, the chilled vista of Pilot Bay, and the impressive Mauao, the 230m high landmark at the tip of the peninsula - enjoyed by locals and visitors alike.
Our EVES Mount branch was opened in 1975, six years after the first EVES office opened on Cameron Road. The sales team has around 19 residential salespeople, plus additional support staff and led by branch manager Gill Bowden, a real estate powerhouse who believes that training, mentoring and committed support is the key to leading top performers.
Earlier this year the EVES Mount office received the celebrated 'Top Office' award for 2021, at the EVES Realty annual awards ball. These guys are no strangers to success though, having received the Top Office award previously in 2017 and 2019. This year there were also over 20 individual accolades awarded to our awesome EVES Mount team.
So if you're over in the Mount, checking out leisure island, getting an ice cream from Copenhagen Cones, or hunting through the array of boutique stores – pop in to the EVES office and say hello. Our admin superstars Jenny and Justine will be on reception to greet you, and any one of our exceptional salespeople will be happy to have a chat with you about the booming real estate market.