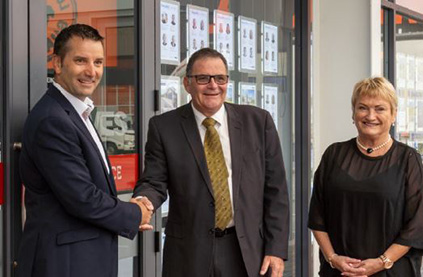 Looking back with nostalgia, but eyes on the future, EVES' Tauranga team moved house last week. Shutting the doors on the iconic Cameron Road corner site where it all began in 1969, the team joined their counterparts in larger, refitted premises in the Gate Pa shopping centre in a new EVES on Cameron.
Far from retraction, the change is all about consolidation, reset and looking forward to the future, according to EVES General Manager Bay of Plenty, Karen Worley.
Heath Young, Realty Services CEO, is quick to reinforce that the EVES business is now in its 54th year of operation and doesn't for one minute take for granted the opportunity to take EVES to the next level.
"We're only really getting started and a significant part of our strategy over the next couple of years is to identify a suitable location for 'EVES House'. This will become our next iconic location here in Tauranga city and is part of our continued growth."
From that single first office, EVES now has a total of 14 offices from Whangarei to Rotorua – nine in Bay of Plenty alone. From small beginnings, strength in numbers, presence and unity has steered EVES to where it is today and Karen is excited for the new opportunities and growth. In a career spanning 17 years with EVES – first as group sales manager and the past four years as GM – Karen says leadership and support underpin EVES' core values.
"EVES has the best group of managers, great leaders and support that wraps around everyone and everything we do."
Any successful company is only as good as its people. Evidence of that is the people the company has drawn from elsewhere in the industry. EVES on Cameron Branch Manager Craig Wilson might have only four years in the role, but he has 26 years in the industry.
Approached to join EVES, Craig says looking in from the outside was very different from looking out from inside. Impressed by EVES' professionalism and leadership, the move has been rewarding. Further rewarded by the enlargement of his own team – now in residence at the new EVES on Cameron.
Brighter premises, positive outcomes
Expansion was required to cater for the extra numbers. The Gate Pa building hasn't changed from the outside; inside is a completely different story, however. Expanded internally and refitted throughout, the new surroundings have been an inspiration. Better for the team; better for their clients - and the public.
Accompanying that is a strong belief in supporting the community that supports it. Sponsorship is regarded highly at EVES and a dedicated team works on major events to help the community succeed and grow.
When it comes to business, EVES philosophy is built on a reputation of trust and experience. After all, they have been in the game for over 50years. Real estate success might seem easy in good times – proven by soaring prices and rapid sales in the immediate aftermath of Covid however such a whirlwind would always be hard to sustain. A settling is a normal part of the cycle. While figures show percentage drops, the market will always be the market.
Circumstance will always dictate a homeowner's desire or need to sell. And results will always rely on the advice of a sales team with experience and knowledge to navigate a vendor's experience through to a successful outcome.
Remembering the little house on the corner
When doors closed for the last time on EVES' iconic first home, it ended an era – but also an era of different times – born in 1969, when the business started. Craig Hilton doesn't date back that far, but his 25-year career did begin in that ' little house on the corner of Cameron and Sixth'.
From a young trainee in 1997, he went on to three branch management positions and eventually EVES Principal Licensee.
" I feel fortunate to have been coached and influenced by some of the industry's legends – Richard Cashmore, Brian Waldegrave, Colin Martin, Gil Beadle and Graham Ferrabee."
Up until the 90s, that 'little house' was EVES' head office – home to the directors, managers, sales, property management and administration teams. Even after senior management and administration moved into the CBD, EVES' heart remained in that little house on Cameron and Sixth.
It was a social hub of the city and a venue for numerous business meetings and social 'after fives', according to Craig. Like many Friday nights in the day, 'the bunker' was a special place.
"After 25 years with EVES, I'm continually asked ' how's this person getting on?'; 'remember this occasion?'; 'that sponsored event?'; 'or I bought my first home from this building'. This 'home turf' of EVES enjoyed almost 55 years of successful business, social activity and community interaction."
EVES might have outgrown that 'little house on the corner', but it will always hold a special place in the hearts of everyone who shared time there. Now, its onwards and upwards.