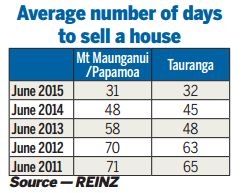 Houses are selling more than twice as fast as they were five years ago, while the number of sales have jumped nearly 50 per cent from the same time last year.
The 48 per cent leap in sales comes off the back of May - the busiest month of sales in eight years - and marks yet another healthy month for Tauranga's housing market.
The Real Estate Institute of New Zealand's figures for June 2015 showed that in Tauranga alone, sales increased 49.6 per cent from 119 sales to 178.
Across the bridge in Mount Maunganui and Papamoa, sales jumped 45.5 per cent from 77 to 112. Stronger demand versus supply in Mount Maunganui and Papamoa saw the number of days to sell a house continue to drop - plummeting from 71 days in June 2011 to only 31 days last month, according to figures from the Institute.
Tauranga couple Lisa and John Kerr put their three-bedroom home in the Lakes on the market last month and it sold within 10 days.
Mrs Kerr said they never expected their home in The Lakes to sell so fast.
They could not believe it when they received an offer "well over" its valuation after only 10 days listed with EVES. "We accepted it that night," she said.
The house had sold for much more than they had paid for it a year earlier, she said.
EVES and Bayleys Real Estate chief executive Ross Stanway said last month proved the days of slow winter months were long gone. "Demand is very, very high," he said. "I think this has been a very warm winter in the property market."
By Rebecca Savory - Bay of Plenty Times