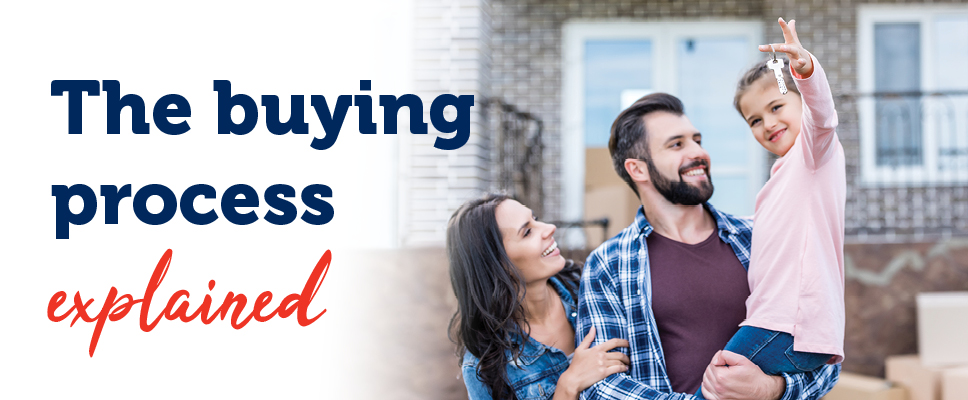 The Property Buying Process Explained
Buying a home is one of the most important decisions in your life. The process can at times seem exhaustive and overwhelming, but we're here to make it as smooth as possible. We have outlined the standard process for buying a property in the 6 steps below, so that you can feel informed and know what to expect.
Step 1:
Find out how much you can, and would prefer to spend, and get your current property 'market ready' (if applicable).
If you do have a property to sell, now is the time to enlist the help of an EVES salesperson to help get yourself 'market ready', they will provide a current market appraisal. This will give you a realistic selling range, and it will help your mortgage broker or bank assess your financial position. You can then look to start preparing your home for sale.
Your local Vega Mortgage Advisor or bank will help assess your current financial position and advise your likely borrowing capacity. They will take you step by step through the home loan process which will determine how much deposit you will require, how much you can borrow and what the repayments will be.
Step 2:
Decide on your criteria
Before commencing property shopping, make a list of all the things you would like in your new property. Then, circle everything you absolutely need. This becomes your checklist for buying. Aspects to consider could be:
Do you need to be within a certain school zone?
What is the minimum number of bedrooms and bathrooms you require?
Do you require additional storage in the form of a lockable shed or large garage?
Consider the lifestyle and living habits of yourself and your family and base your requirements off these. This checklist becomes your primary search criteria.
Next make a list of your wants – the features you would like in your new property but aren't dealbreakers. These could be added luxuries like views, fully fenced yard, street frontage etc. This list becomes your secondary criteria and can be used to narrow down your top choices.
Step 3:
Sign up for new listing notifications and make contact with your local EVES salesperson.
Register for Property Alerts on websites such as Realestate.co.nz and Trademe to ensure you are being notified of new listings that meet your criteria, as they become available.
It's also a good idea to really get to know a local EVES salesperson if you haven't already. Give them a clear description of what you are looking for. They will be able to add you to their priority buyer database and can keep you front of mind for suitable properties.
Step 4:
Start viewing homes that interest you.
Start shopping around. Refer to your checklist for must-have features and view properties that fit within your applicable criteria. Only view homes that sit within your budget to avoid disappointment.
Attend open homes on the weekend. If a property interests you, request any documentation that is available (draft contract terms, Certificate of Title, copy of the LIM Report) so that you can supply these to your solicitor.
Schedule a follow up viewing and prepare to take note of any details that you missed during the first inspection.
Step 5:
Make an offer (Priced and PBN listings).
Once you've found the property you wish to purchase, decide on how much you can offer. It's worth noting, lowball offers very rarely achieve the desired outcome. Its best to be realistic, and your offer, even when lower than the asking price, should show that you are serious. The way in which you make an offer on a property depends on which method of sale the property is being sold by.
If a property is priced or listed by negotiation, you can supply the real estate salesperson with the information they need to draft an offer on a Sale and Purchase Agreement for you. This will consist of;
Full legal names
Entities of the prospective purchaser (if applicable)
Deposit amount
Offer amount
Settlement date
Any conditions that your offer may be subject to (eg. building report, finance, due diligence etc).
The salesperson will then draft the Sale and Purchase Agreement up for you. You should have your solicitor review this contract before you sign it. This offer is then presented to the vendor (current owner), and if they accept your offer, you enter a binding conditional contract to purchase that property.
Once your conditional offer is accepted – start satisfying your conditions.
You can then go about satisfying the conditions in your contract. Make sure you look to do this as soon as possible and book all inspections ASAP - for example building report. This will allow enough time for you and your solicitor to review the findings. If there is anything you are dissatisfied with, your solicitor can give notice to the vendors solicitor of any remedial work requested.
Otherwise, if there are no issues, your solicitor can give notice to the vendors solicitor that the conditions have been satisfied.
Buying via Auction
If the property is being sold via auction, you will need to satisfy all conditions you require before the auction date. This is because bidding at auction is done on an unconditional basis. Prior to the auction date you should request a copy of the draft Auction Particulars of Sale (the auction contract, equivalent to a Sale and Purchase Agreement) for your solicitor to review.
You will also need to obtain a copy of the LIM report for your solicitor to review and set about arranging a building report and any other inspections you require to satisfy yourself that you are happy to proceed with bidding for the property.
You then need to obtain approval for finance (if required). It's important to note that if you win an auction, you are required to pay the deposit in cleared funds immediately after. It's important that your lender has authorised this, as sometimes accessing funds such as kiwisaver has a protracted process.
Step 6:
Settlement
Ensure that you have your home insurance in place before settlement day. Also, make sure your lender is notified and ready to release the funds by the required date.
Pre-settlement inspections are important to carry out, before paying the balance of funds for the property purchase, to ensure you are getting exactly what you agreed upon.
The pre-settlement inspection is your final opportunity to review the condition the property has been left in. It also ensures that all chattels and fixtures are in the same order as when you made the offer on the property. If there is anything different/damaged or of concern to you, you should advise your solicitor as soon as possible. They can then advise the vendors solicitor in writing of any issues, so that these can be resolved.
As long as you are happy with your pre-settlement inspection, you can proceed with paying the balance of the funds on settlement day (via your solicitor). The keys will then be released to you!
Questions around the buying process? Get in touch with one of EVES salespeople – they will be happy to help!