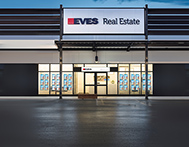 Happy 4th birthday EVES the Lakes!
EVES The Lakes is the newest EVES office in the Bay of Plenty and the team have seen Tauranga Crossing go from tumble weeds blowing over an almost deserted car park, to the bustling hive of activity generated by a superior shopping centre in a popular place to live.
As the neighborhood has grown, so has EVES. It's thanks to those new to Tauranga, or those relocating from other parts of the city they've become a popular port of call for those looking to sell or buy in the Lakes, Pyes Pa and surrounds; also, an informal information point for those seeking local directions! In true EVES style it really is a case of "EVES. Exceptional. Every Day" even if you're only looking for a helping hand to find your way around the shopping complex.
Specialising in residential homes, sections and lifestyle properties on the city fringe, both sellers and buyers love all the properties on offer in their expansive window display – check them out today, or call in and say hi you'll always be greeted with a friendly smile from their wonderful adminsitrator Chloe - even if it's only to ask for directions to streets not yet on Google Maps!