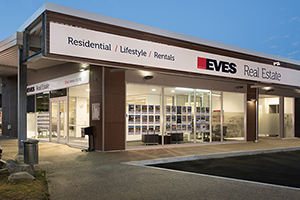 Our Bethlehem office, strategically positioned in the Bethlehem Town Centre next to the famous pie shop, has continued to be a hive of activity all through the 'dark days' of the Covid-19 pandemic. With early predictions of a cliff face fall in prices and activity, the reality has proven to be far different, and our team has been kept on their toes trying to satisfy the demand for both residential and lifestyle properties. Whilst we have seen a slight uptick in enquiry from abroad, and Auckland, Wellington and the Waikato are well represented amongst the buyers we encounter, it is fair to say that demand from local buyers is particularly strong. Anyone observing our auction room on a Thursday (you can watch live here) cannot fail to be impressed at the results we are seeing, with – for now – no indication of weakness in the market ahead.
What used to be a small EVES Bethlehem team some years back has grown into a team of 20 experienced salespeople with diverse backgrounds, a formidable combined skill set and a sprinkling of assorted accents. On the team we have power couples and solo flyers, agents with decades of real estate experience and others who still have a few years to go before they're invited to the 10 year lunch. But whoever you encounter, you can be sure that you are dealing with someone who shares EVES commitment to be Exceptional. Every day.
Anyone popping into the branch will have been met with a smile and a cheery greeting from one of our super star admin ladies, Kate and Niki. Ora is the friendly face who handles all our property rentals, making sure that both tenants and landlords are kept happy. Keeping tabs on the crew and making sure that everything runs smoothly is our branch manager (and EVES principal), Craig Hilton.
And about that pie shop – we like to think of it as our secret weapon! More than one happy pie muncher idling on the pavement has had their attention piqued by a property in our window… and the rest, as they say, is history!