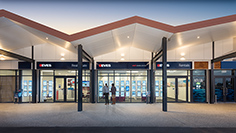 The EVES Papamoa branch is superbly located on the outer edge of the Papamoa Plaza, with great visibility and parking. This central position means they are approximately halfway between the Mount and the end of the proposed Papamoa East developments. Also, being near Domain Road, the roadways to Te Puke and the highway east and west are very close.
EVES was one of the foundation businesses in the original Plaza and over the years, the office has been altered twice and we were temporarily relocated once during renovations. Despite those upheavals, they keep kicking goals and retain a dominant market share in the area.
Papamoa East continues to grow at an astonishing rate but with no major shopping centre located there so far, the Papamoa Plaza enjoys a significant amount of shopping from those East residents.
Some of their fellow retailers are also well known in the community, Doug the Butcher and Bobby's Fish and Chip shop, both being either side of our branch, and proving very tempting! The iconic Pap Tav (now called The Island) is also a short walk away.
The branch residential sales team numbers around 20, with a further 5 licensed support staff assisting in 5 different sub teams. Also, the Property Management team here is comprised of 4 property managers, and support and admin. When you come into the branch, you will be met at the residential reception by Tracey and Cat, and at the rental reception by Taliyah.
Experience, expertise and a sense of urgency, words that are often thrown around loosely, but these are definitely evident among the residential sales team and property management division. In a real estate market that demands action, accuracy, and sound advice, EVES Papamoa offers the all round package for buying and selling property plus all aspects of property management.
EVES Papamoa is managed by Trevor Hansen (027 2849399), who has real estate sales experience in Tauranga, and has held management roles in Rotorua, Mt Maunganui and Papamoa. Trevor hopes that one of the team can be of great service to you soon.