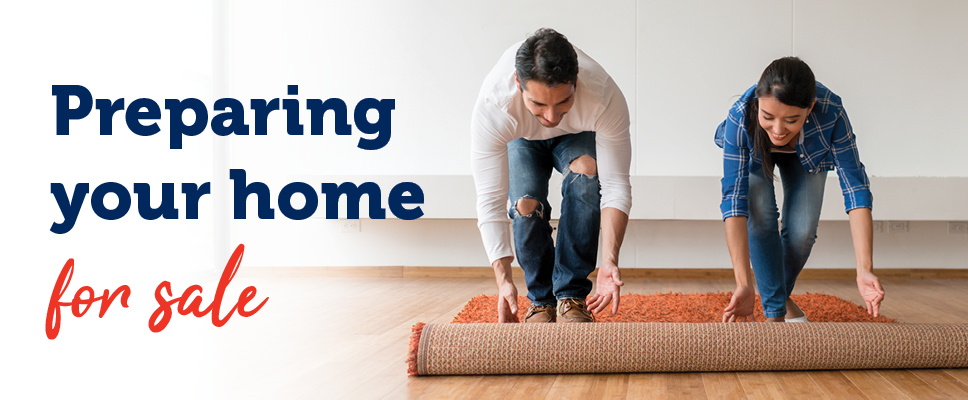 Preparing Your Home For Sale
How your home comes across in the first few minutes of viewing with a potential buyer can be a crucial part of the outcome at the other end of the sale process.
The time has come to take a truthful look at your home. Tasteful decoration, careful presentation, and clever use of space can often be the difference between an 'acceptable' result and a 'great' result.
While some homes require barely any work at all to prepare them for sale, others need a little additional help to really attract the market's interest. We've put together a few recommendations to make your property stand out in the marketplace so you can maximise the sale price of your home.
Street appeal
Before a buyer even steps inside your home, they will see it first from the road. Therefore the exterior of your home is critical to impressing potential buyers. Improve your home's street appeal by undertaking the following:
Simple gardening, ensure lawns are mowed and weeds removed
Sweep the front approach areas, and clear the entrance way of any leaves or foliage
Wash the exterior of the house and ensure paintwork is pristine
Water blast concrete areas
Remove any clutter from around the property
Add potted plants to add appeal to the first impression
Storage
Clean out garages and sheds to show how much storage space is available
In the kitchen, clean out the pantry and clear appliances off the bench top to create a feeling of more space
In the bedrooms, clearing out wardrobes creates the perception of abundant storage space
Buyers will open your cupboards and closets, so make sure these are immaculate. Folding linen and clothing will make storage spaces appear larger
Depersonalise
It is important to depersonalise your home before sale, as buyers tend to have a hard time seeing past personal effects. You want them to start to imagine their own items and photos filling the home.
Remove personal photos and items
Remove magnets or notices from the fridge
We recommend staging your home or using a stylist to help your property appeal to a wide range of buyers
Think about painting over bold colours and dated wallpaper
Head to local open homes to get a feel for what works well and what does not
Property maintenance
It may not be necessary to conduct expensive work before selling your home however, small maintenance upgrades can make a huge difference to your home.
Repair leaking taps
Replace faulty light fittings
Adjust sticking doors and/or loose door handles
Plaster over any small cracks or holes in the walls and re-touch paint
Bathrooms should be gleaming, repair broken tiles and ensure seals are in place
Consider getting your carpet professionally cleaned
Space and light
Create the impression of space by removing unnecessary furniture and ornaments
Open all blinds, clean the windows and surrounding sills
Trim any branches that may be overhanging in the garden
Add a mirror to smaller rooms to create a feeling of space
Install 100 watt light bulbs to brighten dark rooms
Consider hiring a storage unit to house unnecessary objects
Before every open home
Remove pet feeding bowls and if possible remove pets from the property during the inspection
Turn on lights in darker rooms
Remove valuable items from sight
Leave doors open so that buyers can explore the feeling of space
Make sure the temperature inside the property is comfortable
Highlight special features such as open fires or architectural quirks with the property