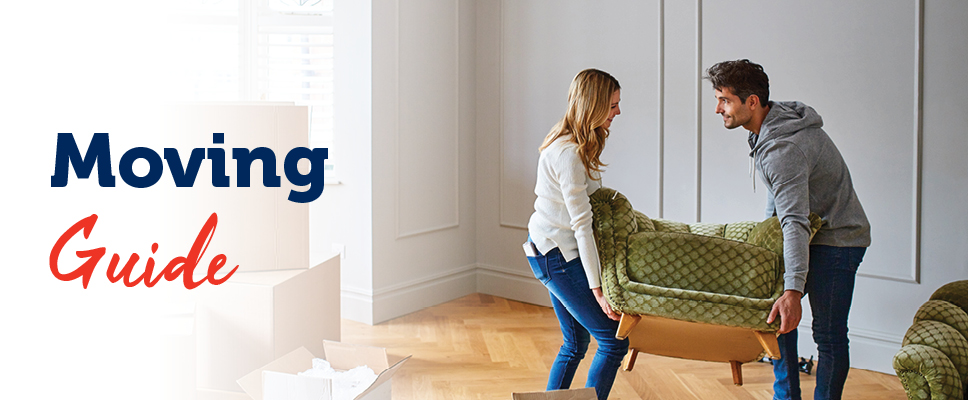 Moving Guide
Moving into your new home is an exciting experience. Whether you're buying your first home, upsizing or downsizing, planning is the most important thing you can do.
Preparation is key
Moving can be a stressful process, so it's best to be prepared and plan ahead of schedule.
Create a list of everything that needs packing in each room to estimate logistics or storage.
Photograph television and stereo cables to make reinstalling in your new property easier.
Measure large or bulky furniture items and take note of height and width.
Measure the rooms and doorways in your new home to work out where furniture can go.
Draw up a floor plan of your new home to figure out where to place items.
Find out where the easiest points of access are in your new home for moving in furniture.
Check if the driveway at your new home can accommodate a small truck or moving van.
Use moving as a perfect opportunity to declutter and re-organise! Donate unwanted goods to local schools or charities or sell items online or through community newspapers.
Tips for packing
Use these seven tips for packing boxes to make your move a little less stressful and a bit more efficient:
1. Start packing early
No matter how good you are, packing always takes longer than you think. Start packing your belongings as early as you can and do it in stages, not all at once. Start packing non-essential items, like books you don't use daily, first to cut down on stress and reduce your workload. Take a few weeks to slowly pack and make sure you're doing it right.
2. Round up boxes
Buying moving boxes can be expensive, and if you have to pack a whole house, you could easily spend hundreds of dollars. There's nothing wrong with a few wardrobe boxes or specialty boxes for TVs, but you don't need to spend your savings on cardboard. Go around to grocery stores, liquor stores and even businesses you frequent and just ask for some boxes. You could save a lot of money and get most of your boxes for absolutely nothing. Ensure the bottoms of your boxes are sturdy and reinforced.
3. Pack strategically
You may not get a chance to unpack all your boxes immediately, so put everything you will want on your first day - sheets, towels, toiletries, change of clothes - in a suitcase or washing basket for easy access. It's also worth marking boxes filled with items you will need first with a symbol. Prevent breakages by simply filling your boxes with shredded newspaper or packing paper to cushion any soft drop or fall the box takes. Extra- fragile items should be labelled as such and packed with bubble wrap.
4. Label your boxes
People who start packing in a hurry often forget to label their first few boxes. Get some waterproof markers and label each box. Ideally, you should label your boxes on all sides. Even a single letter or abbreviation like "k" for kitchen or "MB" for master bedroom will make the process easier.
5. Fill every space
Many people think they need to empty dressers and suitcases before they move. Keeping drawers filled ensures less space is wasted and helps to alleviate load shift in the truck.
6. Don't box bulky items
Too many people make the mistake of boxing very heavy or oddly-shaped items. Instead, wrap them in bubble wrap and move them separately to avoid damage. Think about the weight of your boxes. Try and stick to 15-20kgs maximum.
7. Consider getting help
If you've got lots of furniture and very little time, you may want to hire movers. They can take care of the grunt work for you and their experience can help your move go as smoothly as possible.
For more information, including our handy moving checklist, download our full guide here