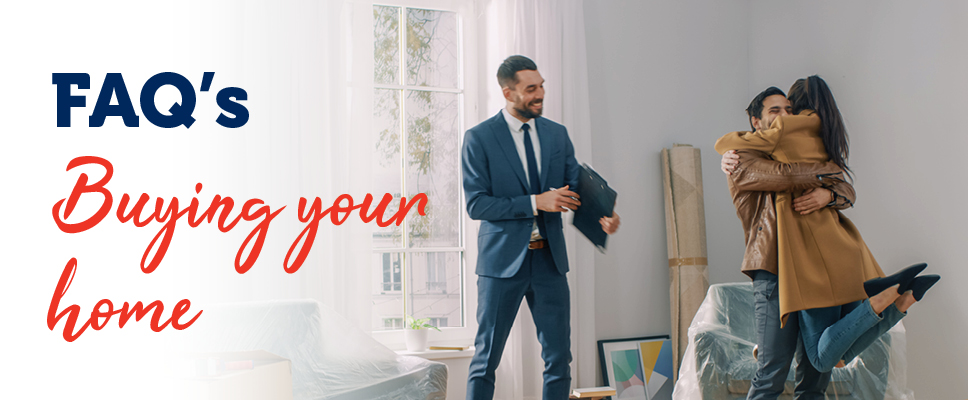 Buying A House - Frequently Asked Questions
We understand that buying a house is probably the biggest investment you'll ever make and can be overwhelming at the best of times. To help you through this journey, our real estate experts have collated answers to a series of questions frequently asked by new home buyers.
When is the best time to buy a property?
The short answer – buy a property when you are ready. The property market in New Zealand experiences seasonal highs and lows, with more stock traditionally tending to become available in spring and summer. Despite this, the residential real estate market has seen very strong activity over winter months. Changes to lending requirements, movements in interest rates, general economic conditions, and the availability of suitable stock 'at the time' tends to have a greater impact on the volume of sales than the winter/summer seasons. If you have your deposit ready and your finance arranged, there is no time like the present.
How can we easily find a good property to buy?
Once you have a good idea on the type of property you are looking to purchase, the area/s you want to buy in and an accurate idea of how much you want to spend, get in touch with an EVES salesperson and get on their radar. This means you will be across any new stock that comes to the market and on the email mailing lists of salespeople that send out new listing alerts to their buyers.
A key advantage of engaging directly with a salesperson, is that the salespeople often have the knowledge of new property listings – days or even weeks prior to the property being advertised via public websites, social media sites and property publications.
How many homes should I inspect when looking for a property?
To avoid wasting your time seeing the wrong properties (such as viewing properties outside of your price range or that don't fit your needs), we recommend you work with your EVES salesperson to create a shortlist of the features and benefits you are looking for in a new home. After viewing say, five to ten properties, your shortlist should be re-assessed to ensure you are focusing on the right location, budget and features you require in a home. Again, avoid viewing properties outside of your budget or that don't meet the requirements on your shortlist.
If you haven't identified a suitable home after viewing these five to ten properties, then you may need to consider adjusting your needs criteria or increasing your budget. Review the properties you have viewed, versus the vision you have in your mind, and consider adjusting.
How to identify when I've found a good property to purchase?
Identifying a good property comes down to your personal requirements. Does the property fulfil all or most of the criteria on your shortlist? Does it fit within your budget? Do the terms of sale suit you? Do you feel emotionally invested in the property, can you envision your future in the property and in the location?
Why should I carry out a final inspection on the property I am buying?
Pre-settlement inspections are important to carry out, before paying the balance of funds for the property purchase, to ensure you are getting exactly what you agreed on.
The pre-settlement inspection is your final opportunity to review the condition the property has been left in. It also ensures that all chattels and fixtures are in the same order as when you made the offer on the property.
How do I make an offer on a property?
The way in which you make an offer on a property depends on which method of sale the property is being sold. If a property is priced or listed by negotiation, you can supply the real estate salesperson with the information they need to draft an offer on a Sale and Purchase Agreement for you. This will consist of;
Full legal names
Entities of the prospective purchaser
Deposit amount
Offer amount
Settlement date
Any conditions that your offer may be subject to (eg. building report or finance).
The salesperson will then draft the Sale and Purchase Agreement up for you and your solicitor to review before signing. This is then presented to the vendor (current owner), and if they accept your offer, you enter a binding conditional contract to purchase that property.
If the property is being sold via an Auction, you will need to satisfy all conditions you require before the auction date. This is because bidding at Auction is on an unconditional basis. Prior to the Auction date you can request a copy of the draft Auction Particulars of Sale (the auction contract, equivalent to a Sale and Purchase Agreement) for your solicitor to review, prior to committing to bidding at the auction.
How do I arrange a mortgage?
Firstly, get in touch with your mortgage broker or your bank/lender direct. If you don't have a mortgage broker, ask your EVES salesperson to help identify a suitable broker to assist in your purchase. They will be able to give you an insight in to how much you can borrow, and the timeline for getting a pre-approval for your mortgage.
You will need to supply your broker with figures for your current income and expenses, so that they can assess the level of finance you are likely to be approved for. Your broker will also assist you with any incentives that you could qualify for such as the first home buyer's scheme. You can then submit your mortgage application through your broker.
It is sound advice to seek a mortgage pre-approval before making an offer on a property. Our preferred finance advisers are
What happens after making an offer on a property?
Once you have made an offer that is accepted by the vendor, your EVES salesperson will provide your solicitor a copy of the signed and dated Sale and Purchase Agreement. You can then proceed with completing your conditions of purchase within the required timeframe. For example, if you have 10 working days to satisfy a builder's report, then book this as early as possible in the conditional period so that you and your solicitor have ample time to review and acknowledge acceptance of the building report condition. If your purchase is subject to finance, you will also need to finalise your home loan arrangements through your mortgage broker or lender if you are working directly.
Once all conditions have been satisfied, your conditional contract is then declared unconditional (by your solicitor), and the property is effectively sold (an unconditional sale is completed immediately when purchasing by way of Auction). The deposit – in general the deposit is required to be paid upon your contract being confirmed as unconditional. In the case of purchasing via auction, your deposit is due to be paid immediately you are confirmed as the successful purchaser (on the fall of the hammer). The amount of the deposit varies depending on your contract, typically 10% of the purchase price.
The final step is 'settlement'. Settlement is when the balance of the purchase price gets paid, and the keys are handed over to the purchaser. Your solicitor will facilitate the payment of the settlement funds to the vendors solicitor. You can get more information on the purchasing process in our EVES home buyers guide.
What's the difference between a buyer's agent and a seller's agent?
Most real estate salespeople work with both buyers and sellers.
The common terminology of 'buyer's agents' and 'seller's agents' generally differentiates between the listing salesperson (seller's agent) and a salesperson who works predominately with buyers (buyer's agent).
A vendor who enters into an agency agreement (listing contract), engages the services of a real estate company and a listing salesperson to market and sell their property. The vendor is their client, and the agents fee (commission) is paid by the vendor.
A buyer's agent, who may work independently with buyers, assists buyers by identifying and showing them the most suitable property that fit their criteria - often streamlining the process of finding a suitable home. The agent working with the buyer, is paid a portion of the commission fee.
How to become a property investor?
To become a property investor, engage with the right people; gain the knowledge and advice from the experts in each field – legal, financial, technical, and of course property.
Do your research and plan, understand where and what you want to purchase to achieve your investment goals.
What should be on my checklist when buying a house?
Before commencing property shopping, make a shortlist; a wish list of all the things you would like in your new property. Then, circle everything you need. This becomes your checklist for buying. Aspects to consider could be – do you need to be within a certain school zone? What is the minimum number of bedrooms and bathrooms you require? Are you happy to do some renovations, or are you wanting to buy a home that doesn't need any work at all? Do you require additional storage in the form of a lockable shed or large garage? Consider the lifestyle and living habits of yourself and your family and base your requirements off these criteria.
What are some things to look for when buying a house?
In addition to searching for properties that fit your criteria and budget, consider other factors such as whether there are areas of the property that will require renovation or repair, how much this is likely to cost you (get specialist advice), and what's happening in the neighborhood. Find out what schools are in zone, and if there are any major council works or developments planned nearby that could affect the future value of the property. Check out our 7 step buying process for more info.
We hope these FAQ's assist you throughout your home buying journey. If you'd like to have a one-on-one chat with one of our real estate experts, head over to our contact us page.