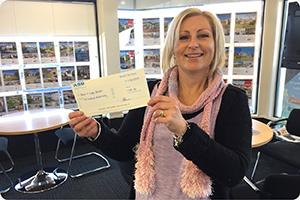 Leigh Stewart is a very happy EVES client having just saved $500 off the deposit on her new home! She and her husband Bevan were renting through EVES Rentals before they bought a property. Buying through EVES ensured they were awarded $500 off their deposit.
EVES not only have the reputation as one of the best real estate companies to deal with when renting or buying but we make it well worthwhile for our tenants by offering them $500 towards their deposit and another $500 towards their insurance when they buy a home though a member of the EVES Sales Team.
Congratulations to Leigh and Bevan Stewart. There are more $1000's up for grabs to give EVES tenants who purchase through EVES a head start as home owners.
Joanna Hart
EVES Rentals