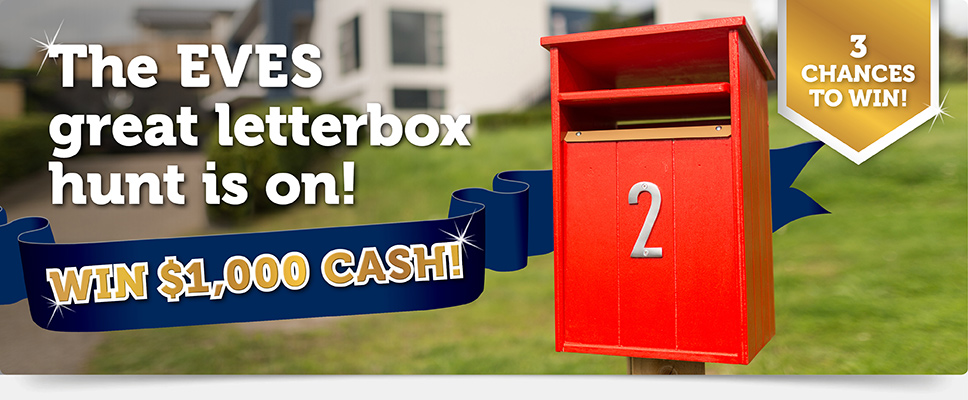 From the second half of this blog title you might think we were sending you out to find the greatest letterbox you can find (which could be fun for those who have a passion for great letterboxes). But, don't worry this can all be done from the comfort of your couch or sun drenched outdoor chair, or maybe just maybe, your favourite beach spot.
To celebrate the opening of our EVES The Lakes office on the 29th of October, we've decided to give away 3 prizes of $1000 cash to some lucky hunters. All you have to do is go to www.eves.co.nz/letterbox and hunt for the listing with the red letterbox. Once you've found the winning listing the hard work is done. Click through from there, follow the simple instructions and you're in the draw. Turn up to our grand opening day at our new office on October 29th and you might hear your name.
The second part of our good news story came from the latest priority one report. For our region, growth has been a big focus. The question is, how do we keep growing to accommodate those that want to live and work here? And therefore continue to create more commercial activity, which in turn attracts more businesses. It's an important cycle for Tauranga and the wider Bay of Plenty's future.
This quote from the latest Priority One report answers how we are going with the first part of this cycle;
"Following a record breaking year in 2015, building consents issued in 2016 are continuing to track very well for both Tauranga City Council and Western Bay of Plenty District Council. For the nine months to September 2016, both local authorities issued the highest value of consents than in any year since Priority One records commenced in 2003. Consents for the combined sub-region were valued at $773 million for the nine-month period, 29% more than the previous high recorded in 2015.
Construction on new residential properties continues to be high this month, with Tauranga City Council issuing the second highest number of single dwelling consents in the last 12 months and Western Bay issuing the third highest number over the same period."
This is exciting stuff as we think ahead to try and ensure growth doesn't stall.
Talking to Realty Group CEO Ross Stanway, he had this to add to the Priority One comments;
"Around the region these high levels of residential, commercial and industrial build activity are obvious.
This stimulates demand for homes, for rental property, consumer spend, traffic volumes and a very positive economic outlook.
The number of new residents in our area grows by the week. Exciting stuff!"
This is exciting for our business as we try and maintain our growth to keep up with the increasing number of Bay residents. There are many strategies that we're employing to enable us to do this and the new EVES office at the Lakes is just one way to help us to continue to provide our legendary EVES service.
To keep up with what we're up to follow us on this blog and Facebook @eves.co.nz