Looking for a fulfiling career in real estate? Whether you're new to the industry or want to take your real estate career to the next level - EVES will provide you the path for success.
Over the past 50 years', we've become a market leading, innovative, and dynamic real estate agency with a culture of celebrating our people and their success. When you join the EVES family, you'll not only be armed with unmatched resources – you will enjoy a collaborative and supportive culture, and an inspiring working environment, so you can enjoy a rewarding and successful career.
"Our goal in the marketplace is to provide the best possible real estate experience for all those we work with. Our goal within the company is to provide the required training, support environment and culture to maximise the opportunity for all of our people to be the best they can be."
Heath Young, Chief Executive Officer
Support for your success
EVES has a large resource centre built around a team of specialists including an expert in-house Marketing team, Financial Services, IT and Systems specialist and some of New Zealand's most respected auctioneers, as well as a world class Training and Coaching team. You can focus on growing your business, knowing that behind you is a huge well-run machine, full of great people you can rely on. This includes:
Auctions
Auctions are a huge part of what we do here at EVES and our auction team are dedicated to providing an industry-leading service to our clients; making the process as simple and enjoyable as possible and providing comprehensive support throughout. They are responsible for overseeing the entire auction process and ensuring a seamless and engaging experience for all participants. During the auction, they are also prepared to conduct mid-auction negotiations as required, devoting as much time as necessary to achieve the best possible outcome.
Marketing
Our in-house marketing and communications team are dedicated to supporting our salespeople and creating the framework and tools for your success. We develop innovative campaigns to stand out in the market, develop products and platforms to enable our salespeople can deliver a world-class service, create best-in-class collateral and promotional tools and continue to be innovative and dynamic in a changing market.
Training, coaching and development
We believe that in today's competitive and expertise-driven industry, doing everything we can to prepare, protect and foster the skills of our salespeople is one of the pillars to our going success as market leaders.
Our dedicated training and development team have collectively coached hundreds of award-winning salespeople. We have industry-leading induction, development, mentoring and high-performance programs which are thoroughly rolled out to every salesperson, personal assistant, branch admin and branch manager at EVES, including;
The Accelerator Series: A comprehensive and proven system our salespeople are all taken through in order to get to earning a six-figure income within the first 12 to 18 months.
Specialist Training and Business Development Programs: Comprehensive list of training development programs to enable you to successfully create and build your personal business. We also provide REAA compliance assistance through ongoing training and management support.
Faststart: Our 'Faststart' program is a 100-day bespoke program to setup your real estate business. It includes Induction, Training, Coaching and Business Development and develops habits to create a six figure business.
Here's what people have to say about our programs;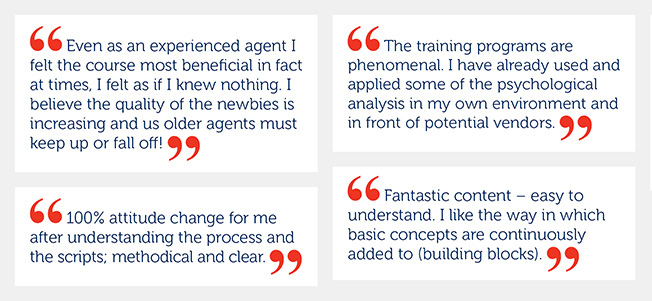 Financial Services
Our extensive finance team are responsible for all EVES financial transactions inclusive of all day-to-day property deals and transactions. They provide extensive support across accounting, reporting, invoicing, and taxation.
Compliance and AML
Our highly skilled compliance and AML team are committed to safeguarding our company and all our salespeople from legal complications and misconduct. Their role is to ensure all salespeople are informed, supported and guided with current legislations. As well as ensuring EVES, as an organisation, is fully compliant.
IT and Systems
We have an extensive IT and systems team situated in our EVES resource centre, providing robust technologies market-leading systems. The team provide on-going support to our salespeople, such as set-up in company systems, technologies and providing technological support and training.
EVES Culture
Our business is people based, and our dedicated People and Culture team strive to create a positive work environment and empower our salespeople and staff. They are focused on fostering a collaborative, family-orientated and inclusive company culture where every team member feels valued. This forms the cornerstone of EVES culture and plays a huge role in our growth and retention of exceptional people.
Events and Awards
At EVES we value networking, upskilling, and creating a culture of celebrating our people. Throughout the year there are many events and activities that happen across the company.
The renowned EVES conference is an opportunity to gain exclusive industry insights, hear aspirational speakers and gain valuable tips and tools. Our people leave the day feeling inspired, motivated and ready to forge themselves, and their business, forward in the real estate industry.
We have a comprehensive awards program which rewards salespeople across all levels. Plus, a generous bonus scheme paid on a quarterly basis.
EVES Next Gen: Property Academy
EVES is thrilled to have launched EVES Next Gen: Property Academy. A group of individuals poised to become the next generation of leaders in our dynamic company.
At EVES, we understands the importance of supporting our team of salespeople, property managers and office staff, therefore this group has been specifically designed to assist those who want to grow, develop and learn to be the best they can be.
The mission of Next Gen - Property Academy is clear: "Next Gen is committed to fostering a collaborative team that cultivates growth, professionalism, and excellence. We aim to shape the future of EVES by developing ourselves and those around us to create lasting value for each other and the wider business."
Community Support
We have a long history of community support, firmly believing in giving back to and supporting the local community. We contribute time, resources and financial support to help improve the quality of life for the people living in the community whilst helping to build a healthy future for the next generation.
Join EVES
We have opportunities available right now, for both new and experienced salespeople. If you have a passion for building relationships, a knack for negotiation, and a drive to succeed, we'll provide you with comprehensive training and tools, in a supportive and collaborative team environment, to set
you up for success.
For an exceptional career in real estate, talk to us today;
Bay of Plenty
Karen Worley
027 545 2736
karen.worley@eves.co.nz
Waikato
Sean Foster
021 664 434
sean.foster@eves.co.nz
Whangarei
Nikki Tracey
09 438 0071
nikki.tracey@eves.co.nz
Or you can reach out directly to one of our 14 branch and sales managers - visit our people.
Or apply through our application form here