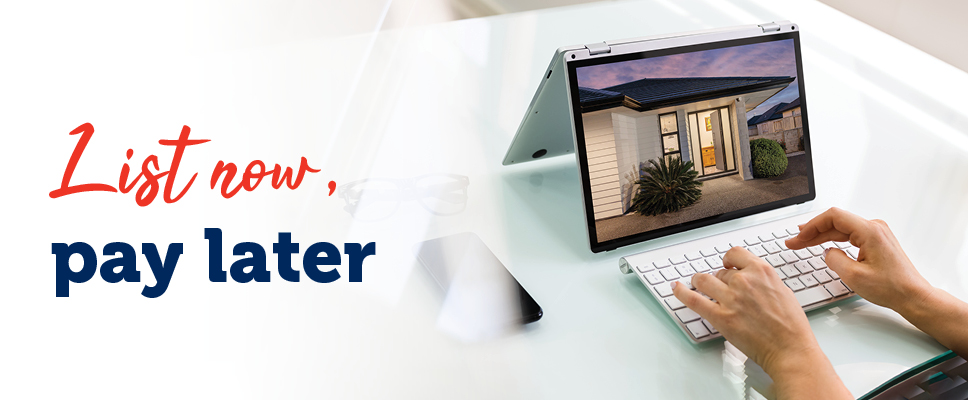 All About List Now. Pay Later.
WHAT: Borrow up to $35,000 for your property marketing campaign.
WHY: We know how buyers shop, so your property needs to be advertised everywhere that buyers are looking. Achieving the best result in the sale of your home involves a strategic marketing plan that accesses buyers across a range of mediums. Using 'List Now, Pay Later' enables you to get your marketing campaign underway without delay!

HOW: Once you list your property and have confirmed your marketing campaign with your salesperson, you will receive an email with a payment link from listnow@campaignflow.co.nz. You can choose to either 'Pay Now' or 'Pay Later'. Simply choose the 'Pay Later' option and follow the steps! Once the process is complete, funds are deposited into EVES bank account and your marketing campaign can begin.
The details:
No up front fees
Loan repayment due when house settles, is withdrawn, or at the end of 6 months, whichever comes first.
2% per month interest rate
Average loan term is 90 days
$99 set-up fee for loans under $4000, payable when you pay the account in full
$175 set-up fee for loans greater than $4000, payable when you pay the account in full
Disclaimer: For approved applicants only. Not available for commercial properties, sections, or any property that does not have a Certificate of Title and Code Compliance Certificate. Other eligibility criteria and terms and conditions apply. Your salesperson will collect information about you for the purposes of verifying your identity under the Anti-Money Laundering and Countering Financing of Terrorism Act 2009 (AML/CFT Act). If your salesperson refers you to Real Flow Finance (NZ) Limited (Real Flow), you agree that your salesperson may also disclose any such information that it has collected to Real Flow so that Real Flow may also satisfy its obligations under the AML/CFT Act. Real Flow is certified by the Commerce Commission for the purposes of being a creditor under a consumer credit contract.